Collaborate update features chat mention & text formatting
Support for up to 1,000 attendees in supersized session
December 10, 2020 9:40 AM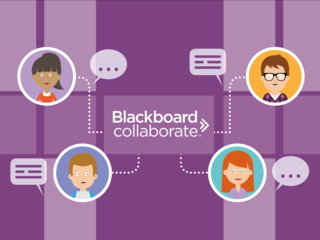 In any online learning experience, it's important for students to be able to engage socially and collaboratively. Interactions with peers and instructors can lead to greater student success. Collaborate introduces two new features to its chat functionality to support increased engagement: chat mentions and formatted messaging.
With the December update, attendees can tag someone in a Collaborate chat when they mention them. Anyone tagged is notified so they don't miss it. Moderators are identified with a MOD label so they are easy to find. Collaborate also features a new text editor in the chat panel. This text editor is simple and features only bold, italics, and underline. One way to use this new formatting option is to highlight a chat announcement in bold to make a message more noticeable in a busy conversation.
Currently, Collaborate can support regular sessions of 250 attendees or supersized sessions up to 500 attendees. In preparation for WT/SP2021, faculty and community leaders can leverage Collaborate to support large scale sessions up to 1,000 attendees. There are limitations to supersized sessions, however:
Webinar sessions can't be longer than 24 hours in length
Guests must be assigned the participant role
Participant permissions are turned off
Breakout groups are not available
Learn more about configuring Collaborate to support a supersized session.
As always, if you have any questions about teaching, learning, and technology at UMBC, please consider the following options: